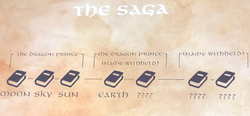 This is the Episode Guide for the animated television series The Dragon Prince. The series premiered on September 14, 2018, and is currently running a total of 27 episodes. The series refers to the episodes as "Chapters" and the seasons as "Books", following the concept of Avatar - The Last Airbender. It will feature a total of 7 books and will be divided into three different sagas, with season one through three covering the first.[1] Each episode features a set of credit images, which are partly funny scenes and partly foreshadowing events of the future. These credits are drawn by various artists of the studio. In canon, some of the sketches are drawn by Callum inside his sketchbook.[2][3]
The events of the first season were expanded upon in the book release Book One: Moon (The Dragon Prince #1) on May 5, 2020. On 25th July 2020, the entire saga of The Dragon Prince has been greenlit by Netflix and will contain seven books in total,[4] as well as several canon graphic novels, such as Through the Moon.
Title
Release Date
Chapter
Episode
"Echoes of Thunder"
September 14th, 2018
1
1
As the human kingdom of Katolis braces for an attack by Moonshadow Elves, King Harrow makes plans to send sons Callum and Ezran away to a safe place.
"What is Done"
September 14th, 2018
2
2
Determined to make up for her mistake, Rayla sneaks into the castle and corners Callum. Lord Viren offers the king a way to survive the attack.
"Moonrise"
September 14th, 2018
3
3
With night falling, Rayla and the princes race to share what they've found and stop the attack. But first they'll have to get past Claudia.
"Bloodthirsty"
September 14th, 2018
4
4
Excited about his newfound powers, Callum convinces the others to travel to the Banther Lodge for a magic cube. Katolis prepares to crown a new king.
"An Empty Throne"
September 14th, 2018
5
5
Callum struggles to control his magic, General Amaya clashes with Lord Viren, and a trip down the river takes a hair-raising turn.
"Through the Ice"
September 14th, 2018
6
6
After a run-in with a soldier, Rayla leads the princes to high ground. Viren gives Soren and Claudia secret orders as they set out on their mission.
"The Dagger and the Wolf"
September 14th, 2018
7
7
In a nearby village, Callum and Ezran seek help for the egg while Rayla hunts down a magic blade. Claudia collects ingredients for a tracking spell.
"Cursed Caldera"
September 14th, 2018
8
8
Ellis leads the friends to the Cursed Caldera but warns it's crawling with nasty monsters. Viren tries to force Runaan to talk.
"Wonderstorm"
September 14th, 2018
9
9
Ezran, Callum and Rayla each put their special talents to use as they make their way up the mountain in a desperate bid to save the egg.
Title
Release Date
Chapter
Episode
"A Secret and a Spark"
February 15th, 2019
1
10
Before marching on toward Xadia, Callum begs Lujanne for a magic reason, and Ezran tries to teach the Dragon Prince to fly. But danger is closing in.
"Half Moon Lies"
February 15th, 2019
2
11
After a fierce showdown with Rayla, Soren and Claudia argue about the best way to deal with the princes. Rayla worries she's kept a secret too long.
"Smoke and Mirrors"
February 15th, 2019
3
12
Callum searches for a way to tell Ezran the sad news, and Rayla sets a trap for Claudia and Soren. Viren watches a mysterious figure in the mirror.
"Voyage of the Ruthless"
February 15th, 2019
4
13
After saying goodbye to Phoe-Phoe, the gang teams up with a pirate to cross a bay, where Callum tries to forge a connection with the Sky Arcanum.
"Breaking the Seal"
February 15th, 2019
5
14
At the summit of the five kingdoms, Viren fights to win the support of a young queen. Flashbacks reveal a key moment from King Harrow's reign.
"Heart of a Titan"
February 15th, 2019
6
15
The attack on the Magma Titan has devastating consequences for two kingdoms. In his letter, Harrow shares a lie, a secret and a wish for the princes.
"Fire and Fury"
February 15th, 2019
7
16
When Soren picks a fight with a dragon, chaos breaks out -- and Rayla faces a difficult decision. A defeated Viren returns to the figure in the mirror.
"The Book of Destiny"
February 15th, 2019
8
17
Callum pays a price for dabbling in dark magic. Claudia searches for a way to help Soren, and Ezran makes a heartbreaking discovery.
"Breathe"
February 15th, 2019
9
18
After using his gift to help Claudia, Ezran makes an important decision about the quest. Callum wakes up with a new understanding of primal magic.
Title
Release Date
Chapter
Episode
"Sol Regem"
November 22nd, 2019
1
19
To cross to Xadia, Rayla and Callum must find a way past a fearsome dragon who was blinded in a battle with a human.
"The Crown"
November 22nd, 2019
2
20
At his first High Council meeting, King Ezran faces a flurry of difficult decisions. Rayla guides Callum through a wonderland of magical creatures.
"Ghost"
November 22nd, 2019
3
21
Rayla returns home to an alarming discovery, the Sunfire Elves decide Amaya's fate, and Claudia confronts her father.
"The Midnight Desert"
November 22nd, 2019
4
22
A mysterious stranger offers Rayla, Callum and Zym a ride across the Midnight Desert. With Katolis in danger, Ezran makes a startling announcement.
"Heroes and Masterminds"
November 22nd, 2019
5
23
Rayla and Callum race across the desert to find Nyx. As Katolis prepares for war, Ezran gets help from an unlikely source.
"Thunderfall"
November 22nd, 2019
6
24
On the march to Xadia, Viren reveals how Avizandum, the Dragon King, met his end. Phoe-Phoe takes Ezran on an epic journey.
"Hearts of Cinder"
November 22nd, 2019
7
25
As Team Zym begins the steep climb up the Dragon Queen's lair, Viren and Aaravos play a nasty trick on the Sunfire Elves.
"Dragonguard"
November 22nd, 2019
8
26
With Viren's glowing army closing in on the Storm Spire, Rayla, Callum and friends must decide whether to flee to safety or stay and fight.
"The Final Battle"
November 22nd, 2019
9
27
Determined to save the Dragon Prince at any cost, the friends brace for a fiery showdown with Viren -- who still has a few surprises up his sleeve.
Currently Unreleased.
Currently Unreleased.
Currently Unreleased.
Currently Unreleased.
Trivia
The creators were planning to include as many "Guns N' Roses" song references inside the series as possible, but decided against it in the end.[5]
References
Community content is available under
CC-BY-SA
unless otherwise noted.